For great City & Guilds courses …
Positioning is our 'P' for all things marketing, whether that's PR, social media, advertising, blog writing, websites, literature or any other media channel and/or printed matter to get your products and services to market …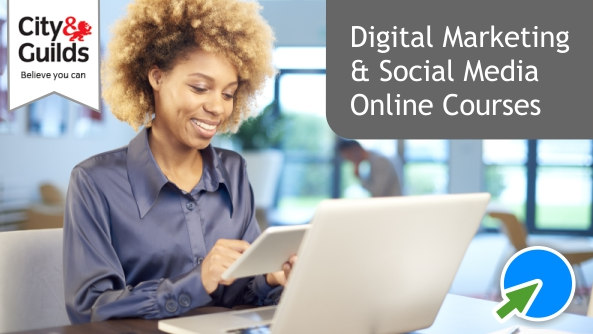 copyright: mary thomas, concise training
One of the most frustrating aspects of assisting my clients in this area is the stuff around digital marketing. Clients are quite happy to outsource web design, blog writing and a number of other aspects of their marketing.
"But when it comes to digital marketing, they do not find it quite so easy!"
They want to do it in-house, for it to be their own voice, to be relevant and then find that they do not have an employee who has the skills or, more importantly, the passion to see it through.
Whilst delivering a marketing strategy workshop to a client this week it struck me that many of my clients are missing an opportunity. So, with that in mind, I made contact with one of my trusted partners to find out her views.
Mary Thomas is an expert in delivering successful digital media strategies and products for her clients, however, she is also an expert in training, was instrumental in creating the City & Guilds social media and digital marketing qualifications.
"Over to you Mary!"
Do you have a keen member of staff in your office who is passionate about the business, who has a vision as to how to market and promote the business digitally and most importantly wants to improve their own skills and knowledge?
If so, perhaps a City & Guild qualification studied over a 12 – 18 month period will be just the opportunity for growth they are seeking? More importantly, this will then give your business a structured, professional approach to digital marketing.
I worked with City & Guilds to develop three practical qualifications to give your employees the skills they need to do their job more effectively for you and to develop their own career.
City and Guilds Social Media Certificate – ITQ

Learn to use a range of social media channels in a structured way. You will learn using 12 of our high quality, interactive e-learning courses. You will be asked to complete 11 assignments to show evidence of the practical use of the channels. Individual feedback is given on each assignment to enhance your learning.

Once all tasks are complete, you will achieve the City & Guilds ITQ Social Media Certificate. This is a highly practical qualification aimed at individuals who are new to the use of social media. It is suitable for individuals using social media for business as well as those using it for their own professional brand. Full support is included.

City and Guilds Diploma in Social Media for Business

Take your use of social media to the next level, with our City & Guilds Diploma in Social Media for Business. This qualification is aimed at those who use a range of social media channels, but want to learn about the application of social media in a marketing environment. The delivery is via 13 x webinars and 14 x e-learning courses over 12 months with start dates in January, March, May and September.

Assessed via a portfolio of evidence with tasks designed to capture practical skills and understanding of social media within a business. Individual, personalised feedback is given in each assignment. Full support is included.

City and Guilds Diploma in Digital Marketing

These days, it is important to understand digital marketing as a whole. This course covers the full spectrum of digital marketing from social media, websites, e-mail newsletters and content marketing within a marketing environment.

The course provides comprehensive cover of digital marketing techniques including creating a digital marketing strategy (with customer audit) and marketing plan, designing and creating an optimised WordPress website, using e-mail newsletters and creating a range of digital content including videos, e-books, infographics, images, blogs, status updates as well as digital advertising and lead generation. The course is taught over 15 months, using 19 webinars and 17 e-learning courses with start dates in February, June and October.

It is assessed using a portfolio of evidence designed to capture the practical creation of content, websites, etc. as well as establishing a sound knowledge base. Individual, personalised feedback is given on each assignment to ensure full understanding and practical use in a business environment. Full support is included.
To find out more about Concise Training and their training programmes you can visit their website or contact me and I'll pass on your details to Mary.
"Would you like to know more?"
If you'd like to find out more about how I can assist in your marketing strategy or if you are interested in one of my marketing strategy workshops for your business, do give me a call on 01280 700405 or click here to ping me an email and let's see how I can help you.
Until next time …
KATH BONNER-DUNHAM
| | |
| --- | --- |
| PS: | If you're looking for a partner to help grow your business, visit www.4pbusinessdevelopment.co.uk to discover how 4P Business Development can help you! |