Working with you to create your vision …
There are all types of coaches: a tennis coach, golf coach, swim coach, music coach, executive coach, and, of course my personal favourite, a business coach …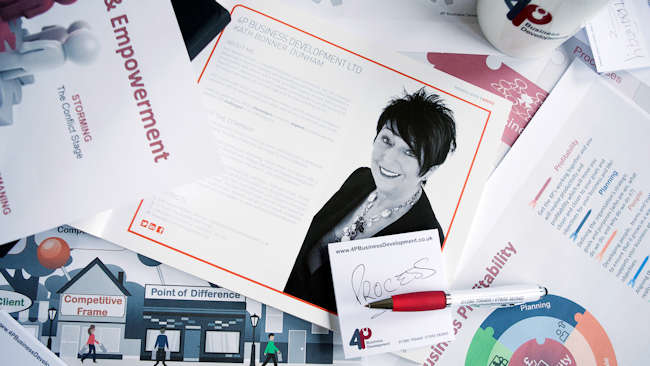 copyright: 4p business development
I am sure there was no hesitation when you learnt to drive. You will have employed the best driving instructor and paid them to teach you how to handle a car safely.
"So why not hire the best coach and get them to teach you to 'drive' your business?"
A business coach never does the work for you, but here's how a coach can help launch you and your business to the next level and to guide you to achieve your long term goals and aspirations.
"Why do I have a business coach? It's quite simple: to have someone who understands my beliefs and can challenge my thinking by asking those powerful questions, as well as being there to brainstorm and bounce ideas off. Every Olympian has a coach to help them be at the top of their game, and I want to be at the top of mine"

Roger Eddowes – Chartered Accountant
A business coach is not a therapist yet a qualified business coach, one that is trained in a repeatable business-building methodology and had qualifications in business, coaching and mentoring really can make all the difference.
"No matter what stage your business is at, a business coach can get you to work harder and progress faster than you would on your own!"
From providing a much-needed ego check to helping expand your network, a business coach can give you both the tools and perspective you need to go from where you are now to where you aspire to be.
"We chose to work with Kath and the impact of her coaching is game changing. It can bring clarity to what seem like impossible situations, an increase in the ability to communicate in a productive and effective manner, and confidence in areas where it is needed most."

Kate Cross – Wedding Venue Owner
Based on their own experiences, 10 successful founders from the Young Entrepreneur Council determined the top 10 benefits to hiring a business coach:
You'll go outside your comfort zone.

You'll get personal attention from someone who knows your business inside and out

You'll finally have someone who isn't afraid of correcting you

You'll learn how to make your ideas a reality

You'll gain a needed confidante

Your networking opportunities will skyrocket

You'll make more money

You'll develop self-confidence

You'll be held accountable for what really matters

You'll hear unbiased opinions
One great thing about having a business coach is that they know more about you than your business and will likely have no biases without your industry or company. This provides a great sounding board for unbiased discussions based on your concerns as a business owner.
"Working with Kath on our business is like having another Director on the Board who brings a huge wealth of experience, without the emotions attached to running your own business.

Having worked with Kath for over 5 years, we not only make much better business decisions and are better employers as a result of her guidance, but also refer to her if we need a second opinion.

I know that we would not be running the professional and dynamic companies that we are today without her input and her role has evolved as we have developed our businesses and our business acumen. "

Jo & Anthony Robinson – Boutique Catering
Good business coaches can lead founders to Aha! moments and uncover solutions that people close to the business may overlook. Chose the right coach, one with business experience and coaching qualifications, and they will:
Be your confidant. You can tell your coach things you wouldn't tell others, because a coach is trained to understand and be non-judgmental.

Encourage you to see your blind spots. A coach is perfectly poised to perform this critical function.

Question the status quo and provide objective feedback. A coach has your best interests in mind in providing feedback and counsel to you.

Provide an alternative set of eyes. Even the top performers in the world have coaches to help them see what they themselves can't see.

Hold you accountable. Your coach can help you take on more responsibility by having you report weekly on your accomplishments and initiatives.

Be that alternative sounding board. As you hear yourself have a conversation new personal realizations emerge.

Be source of creative ideas. You can brainstorm and try out new ideas, behaviours and mental processes as your coach provides a safe place to experiment.

Work with you to create your vision. Your coach can assist you in developing your medium and long term plans for success based on your personal values, personal strengths, background and assets.

Celebrate your successes and be a source of strength when you fail. Your coach can be a supportive and nurturing source of energy.

Help you process life. Life is a process and a good coach can assist you in reviewing and reframing what happens in your business and your life!
"Kath gets results. She has the powerful ability to cut through the distraction, noise, and chaos that beset so many business owners today. If you want results in your business and are sick of empty motivation, then you owe it to yourself and your business to work with Kath Bonner-Dunham."

Michael C Cody – Certified Coaches' Coach
If you feel motivated to learn about how coaching can help you in your business then do give me a call on 01280 700405 or click here to ping me an email and let's see how I can help you.
Until next time …
KATH BONNER-DUNHAM
| | |
| --- | --- |
| PS: | If you're looking for a partner to help grow your business, visit www.4pbusinessdevelopment.co.uk to discover how 4P Business Development can help you! |