And how you can fix it …
It's quite common for people to confuse the difference between a marketing strategy and a marketing plan. All too often, businesses begin marketing without any clear strategy. Then they wonder why they are not achieving the results they expect …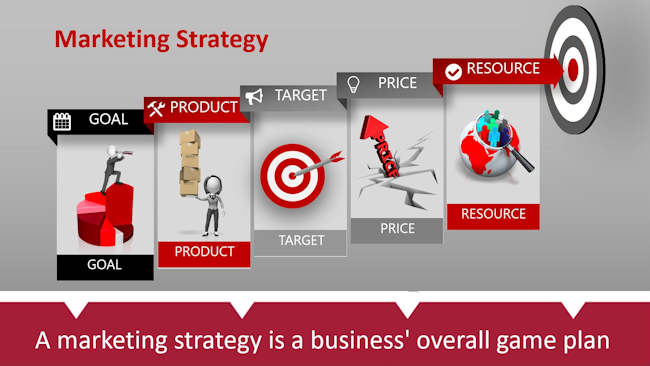 copyright: 4p business development
Your marketing strategy consists of:

The "what" has to be done. Inform clients about the product or service being offered. Inform clients of differentiation factors.

Your marketing plan consists of:

The "how" to do it. Construct marketing campaigns and promotions that will achieve the "what" in your strategy.
Before you begin any marketing whatsoever, it is imperative that you consider all the steps in creating a robust marketing strategy. Furthermore, you must avoid the 7 top reasons your marketing strategy will fail:
Total lack of a robust marketing strategy

Marketing strategy misaligned with business strategy

Relying on tactics instead of strategies

Having the same strategy as your competition

Failure to meet the explicit needs of your target market

Failure of identifying the correct media channels to communicate effectively

Lack of budget and resources
Having a robust marketing strategy in place helps to ensure that your marketing activities remain aligned with your business goals. This maximizes the business return from your marketing efforts.
Here's my 17 step marketing strategy framework that is guaranteed to deliver a robust marketing strategy for your business:

Business Definition – Outline the key definition of the business

Business Goals and Objectives – List all S.M.A.R.T. business goals and objectives

Strategic Marketing Goals and Objectives – List all S.M.A.R.T. marketing goals & objectives

Core Products – List all core products including those provided by a third party that add value

Competitors – Consider both direct and indirect

F.A.B – consider all Features Advantages & Benefits

Unique Selling Proposition – Identify what is totally unique about your offering

Profile of Target Market & Clients – Identify your target market, the perfect client that you would ideally like to attract, where are they and what do they look like

Models – Carry out an in-depth SWOT, TOWS and PESTLE analysis

Brand Message – Identify the key brand messages

Price – Nail down your price point, fixed costs vs variable, considering market trends etc

Media Channels – decide what channels are you going to use to reach your target market

Marketing Plan (Tactical) to achieve Marketing Strategy – Spreadsheet to identify every marketing activity by month with marketing message

Budget – ensure sufficient budget has been allocated to execute your strategy and achieve expected outcomes

Responsibilities and accountability – decide who does what and Identify the very best person to deliver each aspect of marketing plan

Resources – ensure that you have allocated sufficient resources to deliver your plan

Measure and review – put robust processes in place to enable to measure your R.O.I
For help in developing a marketing strategy, or for information on our Marketing Strategy Workshops, do call me on 01280 700405 or click here to ping over an email and let's see how I can help.
Until next time …
KATH BONNER-DUNHAM
| | |
| --- | --- |
| PS: | If you're looking for a partner to help grow your business, visit www.4pbusinessdevelopment.co.uk to discover how 4P Business Development can help you! |