Defining, determining and aligning …
How efficient is your business? How many tasks could be streamlined or carried out in a more efficient manner? You'll be surprised at what I discover with my approach to your process improvement …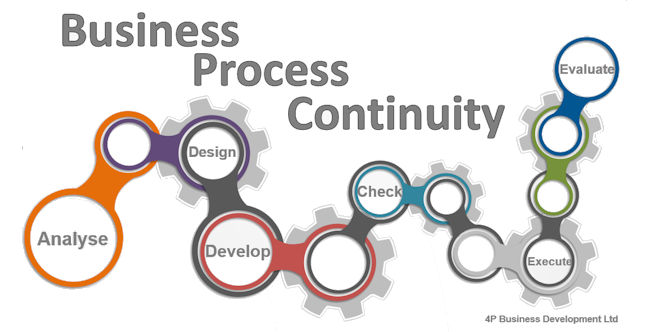 copyright: 4p business development
It allows me to help you focus on the identification and reduction of non-value added activity in your business. This is a systematic approach to help your organisation optimise its underlying processes to achieve more efficient results.
"The best processes allow you to take control of your business and deliver excellence!"
I'll listen carefully to your view of the business, the history behind the current business plan and structure, the areas which are currently successful, those which you would like to improve, and your business goals and objectives for the future.
Business process improvement works by:

Defining the organisation's strategic goals and purposes (who are we, what do we do, and why do we do it?)

Determining the organisation's customers or stakeholders (who do we serve?)

Aligning the business processes to realise the organisation's goals (how do we do it better?)
It's very important to scrutinise your business processes to identify how and where they can be streamlined, whether process order can be improved, if existing tools can be better utilised and where investment in new systems or equipment can be justified.
Continuous process improvement has been described using a number of models. One of the most popular is the system approach with five phases in the model:
Analysis Phase – Identify areas of opportunity and target specific problems. These areas and problems are based on team brain-storming sessions, process definition sessions, recommendations forwarded to the team by organisational members, and other various analysis techniques.

Design Phase – Generate solutions through brainstorming sessions. Identify the required resources to implement the chosen solution and identify baselines to measure.

Development Phase – Formulate a detailed procedure for implementing the approved solution.

Implementation Phase – Execute the solution.

Evaluation Phase – Build measurement tools, monitor implementation, and evaluate measurements to baseline.
However, the success of continuous process improvement within your business also requires you to take the time to identify issues with existing processes and systems and take corrective action.
"Identify areas of non-conformance and rectify them as soon as possible!"
How often should you evaluate and follow up to ensure the processes are working? Basically, wait a suitable amount of time and make sure the problem doesn't recur. If it does, you should be questioning if you have found the actual cause.
On a final note, remember:

Corrective action is used when you are reacting to a problem that has already happened.

Preventive action follows the same process except that it is applied to a problem before an issue occurs.
Get the right processes and systems in place and your business will be more efficient and allow you to create greater profitability.
If you would you like to know more about anything I've mentioned here, call me on 01280 700405 or click here to send over an email enquiry and let's start a conversation about process improvement for your business.
Until next time …
KATH BONNER-DUNHAM
| | |
| --- | --- |
| PS: | If you're looking for a partner to help grow your business, visit www.4pbusinessdevelopment.co.uk to discover how 4P Business Development can help you! |