Recruit, retain, develop and manage the best …
I believe that it should be a priority to learn to create and manage your organisation's culture, and the people in it, as consciously and rigorously as you manage any other aspect of your business …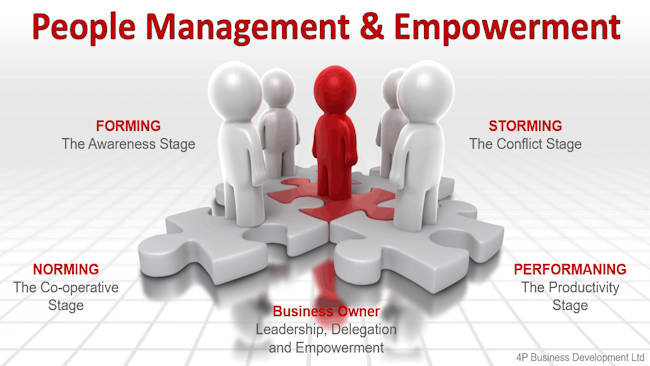 copyright: 4p business development
Leadership is a lot about listening to yourself; be brave with your decisions, even if it goes against the grain. But you do have to ask yourself this:
"Do you have the right people in your business?
Too many managers employ people to match the job role that is currently in place. However, great managers seek an employee with the style and type that suits their business culture, whose skills and talent can redefine how that job is carried out, adding productivity and profitability to the bottom line.
Both people development and organisation development focuses on your actual business – its people, its teams and its leaders – and ensures that it grows in a way which supports your business and its objectives.
"4P Business Development can help you with that!"
Through two key programmes, my Organisation Development group will work with your teams and groups of leaders in your company to help produce the results you need to develop your organisation and its culture.
You can learn how you and your team can work together to raise your game with our Breakthrough Team Development programme. Establish stronger leadership and relationships in your teams and dramatically improve both the quality of your results and your experience of working together.
My team and I work with the whole of your business and you, its leader, to resolve issues of measurement, performance and role clarity, along with attitudes, beliefs, communication and values.
The second of our programmes helps you to develop your leaders through a process linked to achieving the most desired results for your business with our Breakthrough Leadership Development programme. This is specifically designed to cause changes in leadership behaviour that can be integrated into your business.
My approach is an in-depth exploration of leadership through immediate, practical and applicable projects. It is a most reliable, sustainable and cost-effective way to ensure that what is learned is relevant to your organisation.
I'll assist you to identify four stages that all teams will go through, given time:
Forming: This is the awareness stage. Feelings, weaknesses and mistakes are covered up and there is no shared understanding of what needs to be done. People show little care for others' values and views

Storming: The conflict stage is more risky as personal issues are opened up and the team becomes more inward looking. There is more concern for the values, views and problems of others in the team.

Norming: The co-operative stage, confidence and trust begin to emerge, together with a more systematic and open approach, leading to a clearer and more methodical way of working. There is greater valuing of people, clarification of purpose, establishing of objectives, systematic collection of information, considering of all options, preparation of detailed plans and progress reviews to make improvements.

Performing: Evidence of the productivity stage includes flexibility, leadership decided by situations, not protocol, everyone's energy is utilised and basic principles and social aspects of the organisation's decisions are considered.
Teams that go through these four stages successfully should become effective process improvement teams and will display:
Clear objectives and agreed on performance goals

Openness and a reduction in confrontation

Solid support and trust

Co-operation and lack of conflict

Good decision making

Appropriate leadership

Sound inter-group relationships

Individual development opportunities
I will work with your organisation to create a business that ensures that it grows in a way which supports your goals and objectives.
And I will teach you to lead in a way that makes it easy for others to want to follow, setting the right example by your own business behaviour.
"I can do that because I'm a qualified business coach and accredited PPA practitioner!"
If any of what I've written in the blog post resonates with you, call me on 01280 700405 or click here to send an email enquiry and let's see how I can help you to use Personal Profile Assessments, to recruit, retain, develop and manage the best people.
Until next time …
KATH BONNER-DUNHAM
| | |
| --- | --- |
| PS: | If you're looking for a partner to help grow your business, visit www.4pbusinessdevelopment.co.uk to discover how 4P Business Development can help you! |