Or, how I can help you to bite that bullet …
I'm Kath Bonner-Dunham and for 40 years I've specialised in sales and marketing, operations and management. It seemed like a no-brainer to offer that experience to other passionate business owners …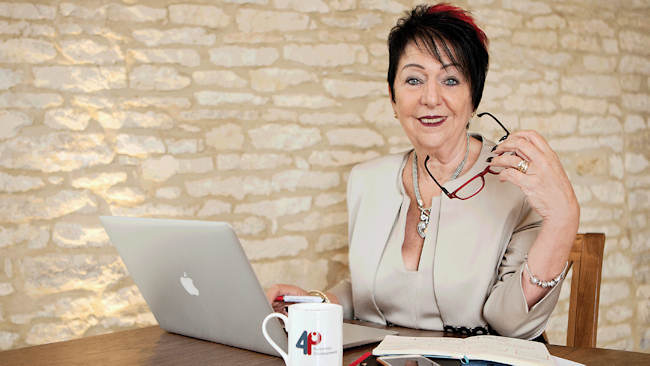 copyright: 4p business development
During that time, I gained a business degree from London Thames Valley University and an additional coaching and mentoring degree at Oxford Westminster, That led me to start a successful business in Essex.
"I went on to become the General Manager of a £12M company in Maidenhead!"
So you can understand why, after helping so many companies to grow and thrive, it was natural for me to lead 4P Business Development and work more formally with passionate business owners who want to reach the next level of success.
So do you have questions like:

Who can I bounce ideas off when I need to?

Who will question the status quo and ask me questions I have never considered?

What is your plan to manage emergencies that could affect your business?

Who will challenge me if I'm going in the wrong direction?

How can I find the right experts to support me and my business?

How can I get more from my people and increase profitability?

I don't know where to find my best clients?

What's my plan to manage emergencies that could affect my business?
Well, I've got the answers for you!
It's often relatively easy to identify the issues holding a business back. What's not always so easy is to 'bite the bullet', to make the necessary changes, and to do it in a way which leaves the business and its people in better shape than before.
"And remember, it doesn't just happen!"
The transition process needs to be managed over time to enable everybody in the organisation to accept and work comfortably in the 'new' set up. I'll listen to you, help you to look at your situation holistically, and advise you on ways to grow the profit over the turnover in your business.
I work with Lesley Long to help grow her business and she said of me:

"Kath is a dynamic, inventive and challenging business coach able to adapt her style to suit her client's needs and their preferred way of working. With Kath's help, I was able to push aside limiting beliefs that were holding me back and form a clearer vision of what I want for my business and myself. I now have a personal game plan in place and am working steadily towards putting my business strategy into place."

And Michael C. Cody, a fellow coach said:

"Kath Bonner-Dunham gets results. She has the powerful ability to cut through the distraction, noise, and chaos that beset so many business owners today. Her refreshingly clear communication and straight-to-the-heart approach are a gift to her clients. The value of her input and her results cannot be overstated.

Her compassion shines through in her commitment to helping clients achieve their excellence. Kath is brilliant and has my deepest respect and endorsement. If you want results in your business and are sick of empty motivation, then you owe it to yourself and your business to work with Kath Bonner-Dunham."
So, I challenge you, I ask those bloody difficult questions (BDQs) and I advise you. And I'll prompt you to build on areas of strength in both yourself and your business, enabling you to achieve your full potential.
If you want the confidence and skills to delegate to others and give them the permission and authority to shine, and bring innovation and inspiration into your business then we must talk.
"I'll support you in making those difficult decisions, and challenge you to achieve your highest aims and aspirations!"
You know you owe it to yourself and your business to invest in coaching, mentoring and advice with 4P Business Development, so why not give me a call on 01280 700405 or click here to ping over an email enquiry and let's talk.
Until next time …
KATH BONNER-DUNHAM
| | |
| --- | --- |
| PS: | If you're looking for a partner to help grow your business, visit www.4pbusinessdevelopment.co.uk to discover how 4P Business Development can help you! |