Motivate your team and boost productivity …
The Trait Emotional Intelligence Programme educates you on how your team understands and manages their emotions, how well they interpret the emotions of others, and how to best manage relationships …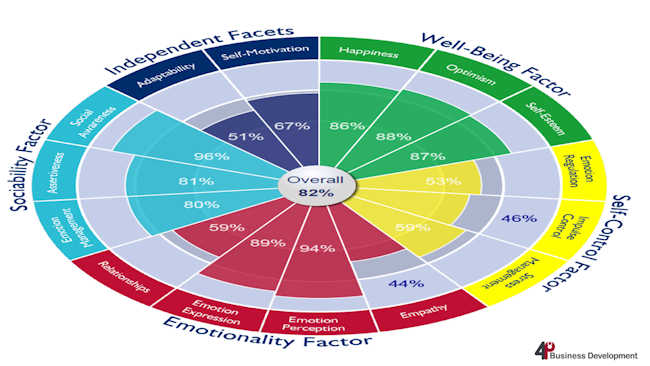 copyright: 4p business development
It can be formally defined as a constellation of emotional perceptions assessed through questionnaires and rating scales. Emotional Intelligence essentially concerns our perceptions of our inner world.
Emotionally intelligent people:

Have self-awareness

Are excellent communicators

Can adapt their behaviour to a variety of situations

As a result, they are more likely to have the edge they need to lead, manage, and perform in today's competitive and complex marketplace. They are also adept at dealing with stress, low morale, conflict and change.
The Emotional Intelligence Assessment will help you identify the external candidates and employees who can thrive in a dynamic, changing environment.
It can also determine the areas your people need to develop going forward. And because emotionally intelligent managers have fine-tuned people management skills, their teams tend to perform well, they're motivated and have high morale, which contributes to staff loyalty and great retention.
This assessment provides you with a report and will help you answer questions, including:
How aware is this person of their strengths and limitations?

To what level does this person modify their behaviour to suit changing situations?

How does this person react to pressure?

Can they control their impulses when under stress?

How sensitive is this person to other people's emotions?

Do they excel at developing relationships?

How self-motivated and adaptable is this person?
It will help improve communication and personal engagement, develop a more motivated team, and generate higher productivity.
Further Reading about Emotional Intelligence:
At 4P Business Development, my team use a number of different personal Emotional Intelligence tools centred around the Trait Emotional Intelligence Programme. I am an accredited and qualified practitioner in EI through Thomas International.
"Would you like to know more?"
If you would like to find out more about Emotional Intelligence Assessments and to explore if they would help you in your business, do call me on 01280 700405 or click here to ping over an email and let's see how I can help you.
Until next time …
KATH BONNER-DUNHAM
| | |
| --- | --- |
| PS: | If you're looking for a partner to help grow your business, visit www.4pbusinessdevelopment.co.uk to discover how 4P Business Development can help you! |