Is your team greater than the sum of its parts?
For your business to be successful you need to create proactive teams, clarify performance expectations, define values in behavioural terms and hold leaders and staff accountable. These must become core team values …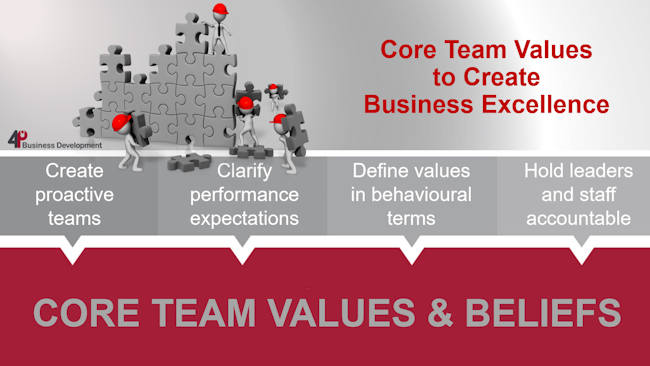 copyright: 4p business development
Many of us are less interested in generically stated core values as they are rarely reflected in our team or company cultures; however, there is obviously a need for any business owner to define their values for teams to embrace clearly.
Let's take a look at the core values required in any successful team:

People: Team members matter more than anything else, it's about building trust-based relationships where there is specific goals orientated results, but not at the expense of the people

Change: The need for change is constant in any business and therefore it is paramount to embrace change enthusiastically, challenge the norm, question the status quo and push boundaries

Growth: to continue learning and personal development, understanding that each member of the team can always be better

Passion: Important to ensure the team maintain passion and motivation creating remarkable experiences. Operating in a relentless and driven manner and being proud of what they accomplish

Goals: set SMART challenging goals thinking BIG. A team should be happy to be responsible risk takers, try new things without losing focus on what is really important in the business, helping the business to move forward

Givers: the successful team members should be willing to give more than they receive, assisting, teaching and education each other, setting the team up for success

SMART: the team could achieve more by focusing the individual's excellence, watch out for systems and process that can enable the team to do less; better and smarter

Fun: enjoy the work, the team and the culture, but perhaps most of all laugh and have fun while achieving

If a team can get these core values right, success and a rewarding sense of teamwork will follow.
It's not always the task at hand that challenges teams in their progress, it's the relationships and the little things that happen day-to-day.
"If team members can rise above the trench, they can achieve greatness!"
Then there are all the standards of performance to consider, the intangible aspects of the individual that enables a proactive team to form. There needs to be a level of common aspects of each individual ethics that fit into the business ethics:
Trust – don't let the team down

Enrichment – enhance daily life and the team in general

Responsibility – behave in a fair manner

Community – connect with each and every team member

Contribution – make meaningful contributions to the team and individual members
Consider how you and your business can support a sense of shared responsibility and embrace the 'we' proposition across the business thereby engaging employees in more meaning manner with better outcomes.
So why should you even be considering any of this? There are obvious outcomes that your business can benefit from employee engagement and teamwork
Improved Morale

Greater Flexibility

Increased Innovation

Unified Effort

Quicker results

Improved Quality

Reduce Risk
Moreover, with successful teamwork, there is a good relationship between the employees. There is goodwill and understanding between the members. They also know their importance and the importance of the work that they do in relation to the success of the company.
Teamwork is really important in achieving the overall goals of a company and this ensures that the work is completed on time to a high-quality standard. The group also receives all the rewards and recognition of a job well done.
Furthermore, teamwork will eventually lead to the success of both the company and of all the individual employees involved, utilising core team values to create business excellence.
"Would you like to know more?"
You may feel like you want to learn more about how core team values can create business excellence, so do call me on 01280 700405 or click here to ping me an email and let's see how I can help you.
Until next time …
KATH BONNER-DUNHAM
| | |
| --- | --- |
| PS: | If you're looking for a partner to help grow your business, visit www.4pbusinessdevelopment.co.uk to discover how 4P Business Development can help you! |