Say what you mean and mean what you say …
I notice many different styles of communication when working with clients and today explain some of those styles and how you can communicate more effectively by adapting your style to becoming more assertive …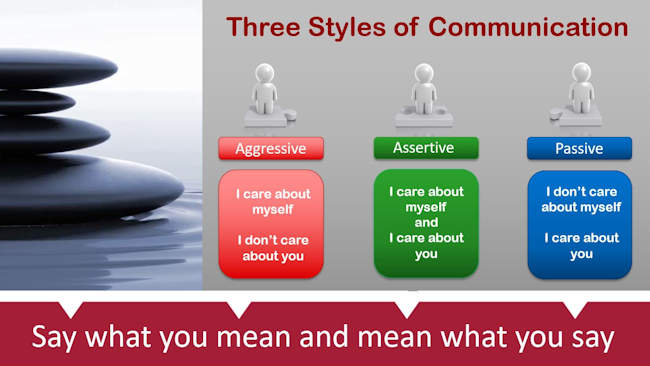 copyright: 4p business development
A good understanding of the three primary styles of communication will help you learn how to react most effectively when confronted with a difficult person.
Perhaps, more importantly, it will assist you in recognising when you are not being assertive or not behaving in the most effective way!
Remember, whilst you always have a choice as to which communication style you use, being assertive is usually the most effective, but other styles are necessary for certain situations.
Learning to identify the different communication styles and recognising which one you ordinarily use in your daily interactions with colleagues and employees is essential when you need to develop effective, assertive communication skills.
The three main different styles in yourself and others:
Being assertive is where you have respect for both yourself and other people. It is seen as the ability to clearly express your thoughts and feelings through open, honest and direct communication; to be clear, direct, and respectful in how you communicate.

Being passive is where you care more about other people and are not an advocate for yourself and your own feelings.

Being aggressive is where you care more about yourself and attempt to run roughshod over others with little care for their feelings
If you're serious about strengthening your relationships, reducing stress from conflict and decreasing unnecessary anxiety in your business, you must practice being more assertive.
"This will help you diffuse anger, reduce guilt and build better relationships both personally and professionally!"
As a business owner, you must be confident in who you are, what you stand for and then present your views without fear and with respect for others.
In business, assertiveness is a key to better and quicker decision making, and faster and more productive actions. In time, this will breed a culture of assertiveness where more ideas can be generated leading to higher productivity and profitability.
Employees who are assertive thrive in the workplace, especially if the situations are ambiguous. They are able to stand up for themselves in a way that doesn't hurt others feelings.
They are transparent in their interaction with their work colleagues and are clear and honest in their communication. They also generate results by controlling their immediate environment in a very positive manner. Assertive people are also very self-assured, which means that they effortlessly gain the respect of people they work with.
Remember the first rule of effective communication: the sender of the message much check that the receiver actually heard and understood what was said.
To learn more about communication styles and how you can communicate more effectively, give me a call on 01280 700405 or click here to ping me an email and let's see how I can help you.
Until next time …
KATH BONNER-DUNHAM
| | |
| --- | --- |
| PS: | If you're looking for a partner to help grow your business, visit www.4pbusinessdevelopment.co.uk to discover how 4P Business Development can help you! |