And a new website too …
Wow! I have a new brand and a new website to go with it. It's the same company name and I'm still using a red/grey/black colour palette, so it's still 'brand me'. How exciting …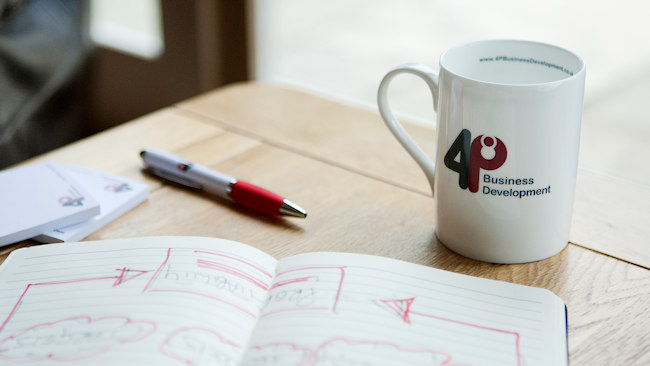 copyright: 4p business development
I have to thank so many people for all of their hard work, attention to detail and support to get me to this stage. And yes, I am very happy with the end result.
"So, why are so many people so often unhappy with their new website?"
They moan about this thing being in the wrong place, about that function not doing what they want it to do, about the level of service they are getting (or not getting) and how much it costs to build and maintain it online.
Well, it's my personal opinion that it is so very often their own fault. They may not have communicated their needs fully. They probably haven't explained all about them and their business and maybe not even employed the correct people to do the job for them.
So, who do you need in order to get the brand, website and printed materials you aspire to, in the time you would like it, and ensure it all fits the core values of you and your business?
Web designer?

Graphic designer?

Photographer?

Videographer?

Wordsmith?

Printer?
Always use trusted partners or experts that have been referred to you. You will find the list of my own trusted partners on my website by clicking here.
A brand can be defined as a seller's promise to consistently provide a unique set of characteristics, advantages, and services to the buyer. It is a name, term, sign, symbol or a combination of all these planned to differentiate the goods/services of one seller or group of sellers from those of competitors.
And remember that every human being is a brand too. The way you socialize, who you know, what you say in real life and online, how you present yourself to the outside world, as well as the beliefs and values you project.
Find out more about branding:
Don't forget to click through to visit my new website to see my new branding and leave a comment below with your thoughts.
"Would you like to know more?"
If you'd like to talk about creating your own 'brand me' and how it can help with your business' profitability, do call me on 01280 700405 or click here to ping over an email and let's see how I can help you.
Until next time …
KATH BONNER-DUNHAM
| | |
| --- | --- |
| PS: | If you're looking for a partner to help grow your business, visit www.4pbusinessdevelopment.co.uk to discover how 4P Business Development can help you! |